Edward Drummond was the Private Secretary to Sir Robert Peel. He made his first appearance in Series Two.
Lord Alfred Paget
Drummond was very close to Lord Alfred Paget. They met properly in the second episode of Series Two. While at a Royal Ball, the pair spoke outside the ballroom about their lack of interest for women. Later Drummond and Alfred accompanied the Queen on a visit to France where they went swimming under a waterfall with Prince Albert and Prince Ernest. They had several small fights over Drummonds engagement to Florence. They then went on another trip to Scotland with the Royal family. While looking for the lost Queen Victoria and her husband, they spoke of Drummond's fiancée, Florence. Later in the day, they decided to join the servants instead of sitting with the royals. Wilhelmina Coke, the niece and the lady in waiting to the Duchess of Buccleuch, followed them out. After dancing and drinking with the servants they broke away to a lake where, after Lord Alfred said "These midsummer evenings are so enchanting, don't you think?", they shared their first kiss. Wilhelmina arrived at the wrong moment and witnessed the kiss.
After arriving back in London, they went to dinner together where Drummond announced he was breaking off his engagement to Florence. Alfred argued that a polititian needed a wife and they ended up on bad terms. To reconcile their earlier argument, Alfred wrote Drummond a letter asking him to meet and finish their dinner. Drummond, after finishing in Parliament, decided to go. He was killed before he could go.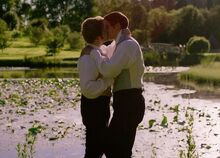 Death
Edward Drummond was killed by a gun man who was aiming to kill Robert Peel. Drummond had meant to meet Alfred Paget that night. Alfred had not recieved news of the shooting and assumed that Edmund did not want to make up with him. At his funeral, Drummond's fiancée Florance was present. She told Lord Alfred that Drummond had spoke of him often.
Community content is available under
CC-BY-SA
unless otherwise noted.